THE FORGOTTEN
C A I R O M A U S O L E U M S
joint effort by Oxford scholar Hussein A. Omar & researcher Samir W. Raafat to digitize Imam al-Shafei's noble graveyards before their total deterioration
with the dynamic concurrence of caretaker/undertaker/contractor: Ashraf Ramadan (tel +20 12-2371-4631)

---
CEMETERY OF THE BARAKAT PASHAS
---

Recently returned from exile by the British Atef Barakat Pasha, a legal sholar and political activist, suddenly died in 1924. He had left instructions to be buried in the capital, and not in his family's historic mausoleum in Minyit al-Murshid, a small village near Rosetta. It fell upon his nephew's young bride to seek out a burial spot for him in Cairo. Hidiyya Afifi found a recently abandoned plot only blocks away from her own family mausoleum. She commissioned Italian architect Mario Rossi, who was building a house for in her in Giza to design the courtyard building in his characteristic neo-Mamluk style.
His brother, Wafdist minister of agriculture and interior, would follow him there a decade after.
Among those buried there is Dawlat al-Zuhayri, member of an old political family related to Urabi Pasha and a sister-in-law of Prime Minister Ibrahim Abd al-Hadi Pasha (1948-9), who was sentenced to death after the 1952 revolution on charges of terrorism and corruption.
It also features the tombs of Bahiyy al-Din Barakat Pasha, several times minister and member of the regency council which held custodianship over the infant king after his father was overthrown in the 1952 revolution. The remains of his wife Hidiyya Afifi, a philanthropist and feminist, were buried alongside him as per her instructions, rather than in her family's own ancestral mausoleum.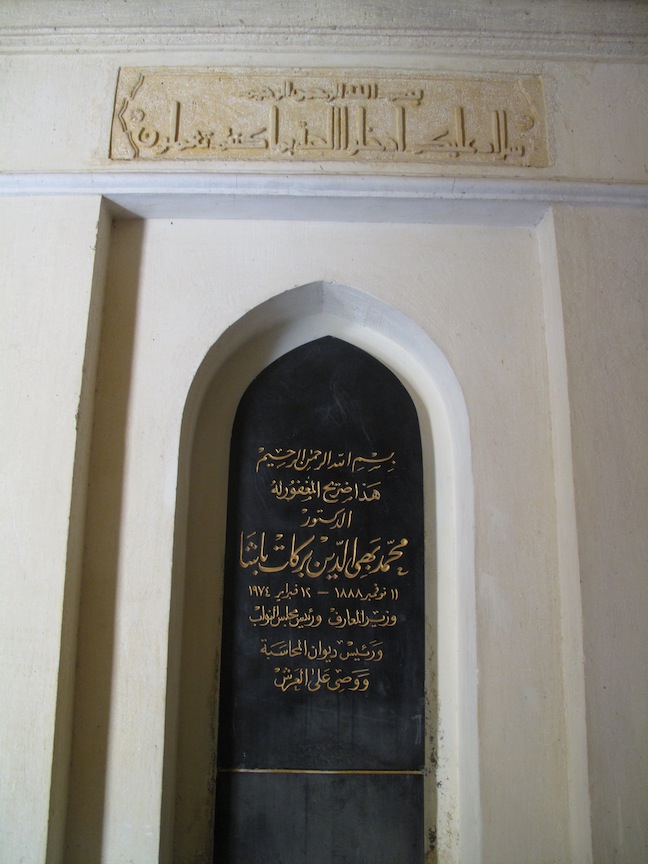 1952: Egypt's regents with General Mohammed Naguib
L-R: General Naguib, Bahyeldin Barakat Pasha, HRH Prince Abdelmoneim Hilmi, Free Officer Rashad Mohanna (photo courtesy Hussein A. Omar)

Dr Bahyeldin Barakat street sign in Giza
colored photos by Anna Della Subin and Samir W Raafat
---
THE KING'S MEN @ IMAM Al-SHAFEI
BARAKAT PASHAS
KHALIL-AFIFI PASHAS

ISMAIL MOHAMMED PASHA
AHMED HESHMAT PASHA
ALI AGHA
MAHMOUD FALAKI PASHA
DILBAR HANEM
TOPUZADEH PASHA
BAROUDI PASHA
MUSTAFA MAHER PASHA
MUSTAFA RIAZ PASHA
TAYMOUR PASHA
CHERIF PASHA Al-KEBIR
SHAMS-NUR
YOUSRY PASHA
FAHMY-RAGAB
ALI FAHMI BEY
CEMETERY GATES
main page
HOUSE OF MOHAMMED ALI MAUSOLEUMS @ IMAM Al-SHAFEI
PRINCE FAZIL
PRINCESS NIMETULLAH ISMAIL
PRINCE HALIM
HOSH AL BASHA

© copyright Hussein A Omar / Samir W Raafat
Any commercial use of the data and/or content is prohibited
reproduction of photos from this website strictly forbidden
touts droits reserves

---